When the pandemic hit, the world changed. It'll be years before we fully understand its lasting impact on our everyday lives, but one thing is clear: remote work is here to stay.
65% of workers have stated they are more productive from home, but there are still teething issues to be ironed out. For creative teams whose work is intensely collaborative and visual, many are still trying to find the right tools and processes to help them stay on the same page while miles apart.
Simple things like just walking over to Sally's desk and asking her to send you that logo file she has saved on her desktop, somewhere, can turn into a whole thing. Creative teams need the right tools to help streamline how they work, no matter where they are–especially when it comes to sharing creative assets.
One of the these tools for creative teams is a Digital Asset Management (DAM) system. A cloud-based solution that enables better collaboration, communication and sharing between remote teams.
---
Your solution: A Digital Asset Management for creative teams
A Digital Asset Management system (DAM) helps remote creative teams organize, manage, share and distribute their digital assets. It acts as a single source of truth and a centralized hub for anyone who needs to access it. A DAM can handle all types of rich media file such as images, video, audio, animations, documents and more.
Here's how a Digital Asset Management system can benefit your creative team remotely:
Easy access to digital assets - No matter where you are
Improves productivity and communication -  Find the asset you need, when you need it, instead of waiting on email replies
Sharing and Distribution - Get the right people involved at the right time
Permissions and access - Keep track of who has access to what
Time savings - Don't lose time to unnecessary admin anymore
---
Benefits of a DAM for your creative team
1. Remote access to digital assets - Anywhere, anytime.
If some of your team are working remotely or even if they are all in the same place, it's important that they're able to easily access your entire digital asset library. Connecting to the in-house server or passing around thumb drives just won't cut it anymore.
A cloud based DAM solution lets your team:
Securely access the assets they need whenever, wherever.
Upload, download, share and search for the specific asset they need (no more distracting asset requests from marketing...😬)
Have a single hub for internal and external teams, such as distributors and freelancers
Organize your assets in the way that makes sense to you.
Manage and control access to assets, making sure they're all up to date and no one is using that old logo.
---
2. Sleeker communication and faster, better work
With remote teams, coffee breaks in the canteen and water cooler chats become a thing of the past.
To keep everyone on the same page and in the loop, a DAM system can usually:
Integrate with your preferred communication platform such as Slack
Integrate with other platforms such as Adobe, Google Slides, YouTube, Figma, Airtable.
Leave feedback and comments directly on individual assets. Meaning that changes and improvements can be communicated with context and implemented quickly.
---
3. Share and distribute your assets to whomever needs them most
Everyone knows the frustration of trying to send a file through email and get hit with the dreaded "Attachment too large" message. So what's plan B? Dropbox and Google Drive could be alternatives but there are limits there too. (Check them out here)
A DAM solution:
Allows you to share your projects or large assets to anyone with a click.
Allows you to customise the appearance. Add your logos, fonts, and colours etc
Some solutions also enable you customise the URL of your links so they really look the part and mean something to you and your team and especially external partners. Wouldn't that be Niice... 😏
Read more about sharing digital assets here.
---
4. You control who accesses and has permission to view and use your assets
It can be easy to lose track of who has access to what, especially when working remotely. When you add in external parties such as distributors or freelancers, things can get messy. Using a platform like Dropbox or Google Drive doesn't give you the acute control you need.
With a Digital Asset Management system:
You can manage permissions and access with a couple clicks.
Have visibility on who has access to what and revoke that access.
Grant access to an individual, or group of assets. Letting you share only what you need to.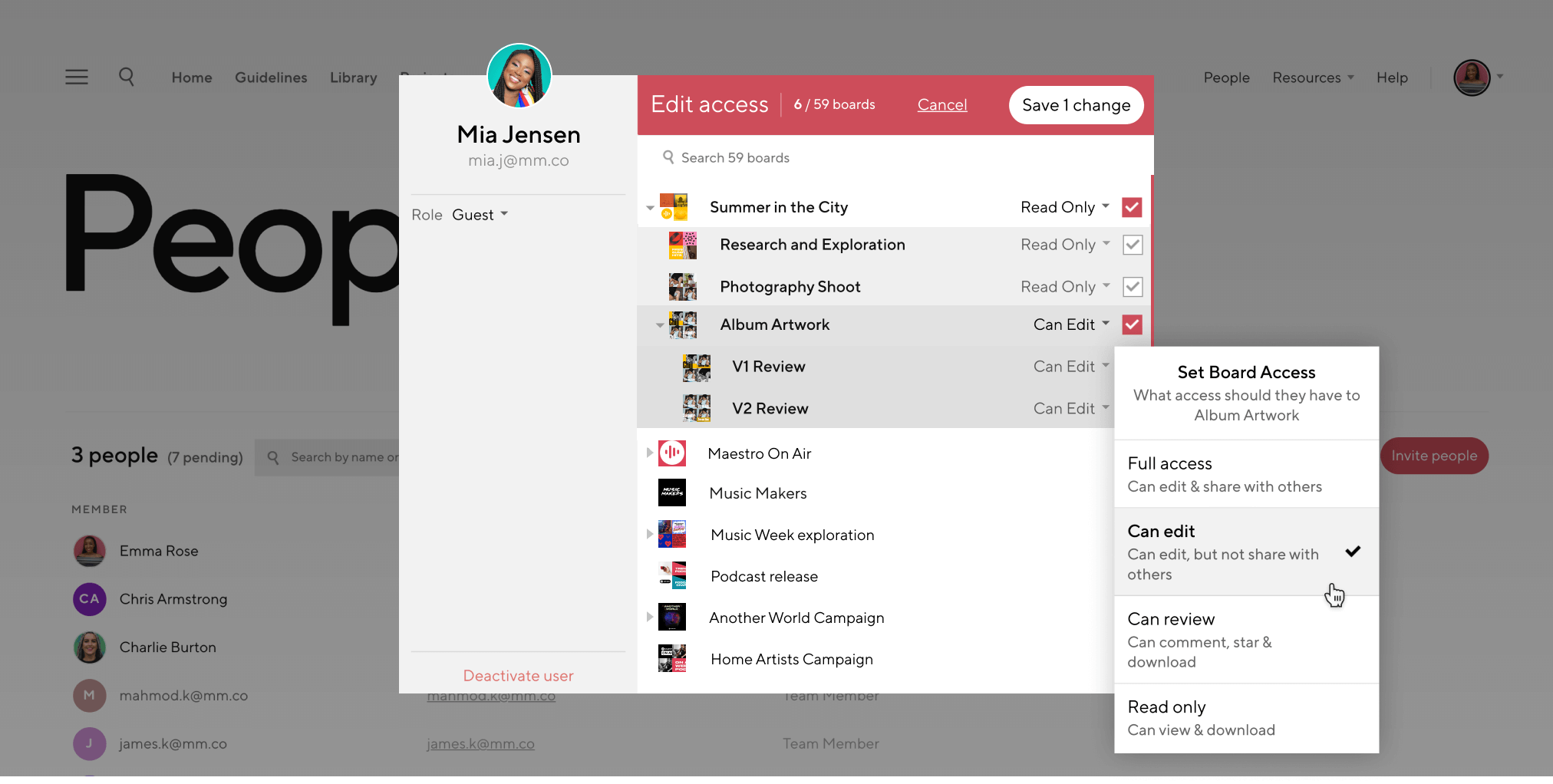 ---
5. Altogether, you save time and ultimately money
If you add all the above benefits together, you will see the potential time savings for you and your team:
No longer will you need to trawl through countless folders and file names to find that one elusive asset.
With better communication and sharing of assets, approval and feedback processes can be more efficient, leading to faster work and quicker project completions.
Being able to find and share the right assets to your internal and external teams just cuts out all of the unnecessary admin you have had to deal with for so long.
At the end of the day, you and your team will have more time to be creative and to do the stuff you want to do.
---
So, is Digital Asset Management for you?
If the above resonates with you and your team, and you're ready to take back control of your assets, you can try Niice free. Need some more info? Contact us for a demo.